Devotional v Bible Study – What's the Difference?
So what's the difference between using a Devotional or doing a Bible Study? And does it matter?
Reading your Bible, whether from cover-to-cover, chronologically or using any other Plan should be part of your Devotional time ie the time you spend with God, praying or simply 'sitting at His feet' listening to Him as Mary (Luke 10 vs 38-42) You can learn more about this in the post Reading Your Bible – Why Should you want to?
As for Devotionals and Bible Study in this day and age, we are blessed with access to so much information via the Internet. And you can find lots of schemes, plans and ideas for them online. But how to choose what to do, can be a problem. So let's start with what is meant by each term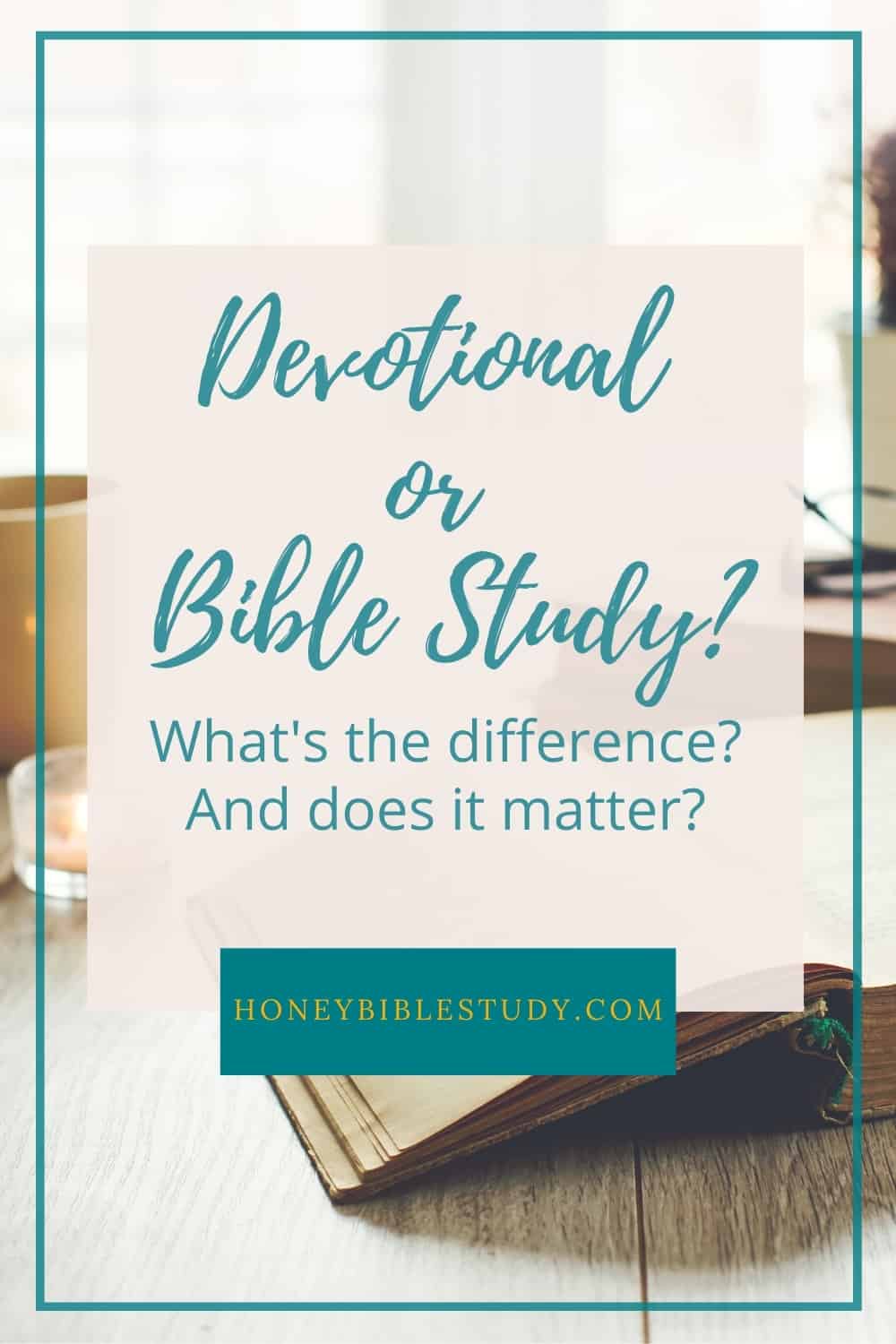 Definition of Devotional
This used to refer to a book, booklet or monthly magazine containing a Bible passage for the day. Alongside that would be a few thoughts on the theme of the reading and a brief prayer. Today it often refers to a list of Bible readings for a set period of time (number of days/week/month) on a theme eg Christmas, Discipline, Taming the Tongue, etc.
Definition of Bible Study
Looking closely at a portion of the Bible using a prescribed method, to gain further understanding and insight of the Text. Learning more about God and Mankind, as well as the Divine plan of Salvation, etc. Bible Study may be of whole Books, Chapters or Verses. As well as Character studies, Word studies or Topics traced throughout the Bible. Other approaches consider Historical, Geographical and Cultural Background studies.
Devotional vs Bible Study
As you will see a Devotional is Different from a Bible Study. Remember that a Devotional is created by someone, somewhere and subject to their particular way of thinking. Whilst a personal Bible study is focussed on a section of the Bible which the Holy Spirit will have prompted you to choose for study.
Some Devotionals suggest just one or two verses as 'The Reading for the Day'. Not only can these verses be taken out of context, it implies that a couple of verses are sufficient to 'feed' on for the day. And the season of life you are currently in may mean that is all the time you have.
However, you can increase the value of the reading if you explore the wider passage around it. If you can meditate on the passage for the day, great! If you use the verses for the day to do a Verse Mapping, even better! (And here comes a cross-over…….If you do a Verse Charting you will have completed a Bible study!)
You have increased the value of that brief reading by inviting God to speak to you through His Word and to give you lasting nourishment.
Avoid Bible Study Overwhelm
A Devotional Bible Reading can be short and complete. But with Bible Study, the approach has to be different. You may be able to complete a study in one day, if you choose one of the shorter methods. The more involved the study, the longer it will take. So you will need to approach it more like an ongoing project to be completed over a number of sessions (possibly days/weeks) rather than a one-and-done quick-fix!
It is all too easy to get overwhelmed by a Bible Study when time is short which is why here at Honey Bible Study all the methods are broken down into steps. And many of the studies are linked because they build upon one another. The simple illustration below shows how this works
For more help you may like to read about How to Choose a Bible Study HERE
In conclusion
Using a Devotional or doing a Bible Study are not the same thing. They both have a place in the Christian life, and time needs to be set aside for doing them. How much time you have available in your current season of life will be a big influence on what you choose to do. But remember
Doing something is better than doing nothing
God will honour the time you take to spend with Him
Anyone can study the Bible – you don't need a degree or be a Pastor!
Everything you read or study in the Bible will enrich your Christian life, your heart and your soul
When time is extremely limited try at least to read your Bible and pray each day. If that means using a guided selection for reading, then by all means seek out the best Devotional you can.
If you have time to read using a Bible Reading Plan choose one that suits the amount of time you have available. But if you can, try to schedule some time each week to undertake a Bible Study
FURTHER INFORMATION CAN BE FOUND HERE:-