This is one of the simplest Bible Study Methods. But make no mistake, doing a Bible Book Outline study does NOT mean it is of little value. Far from it. Just as a building has to have a foundation made of cement, block-work and mortar, think of this method as one of those blocks. And with this method ie 'block' you can build a basis for further studies such as building a Detailed Bible Book Study or a making your Personal Bible Index
Studies of this sort are sometimes referred to as 5W's and an H. Which simply means you ask the Who? What? Where? When? Why? and How? of the Scripture text. These questions that can be most easily applied to:-
any book of the Bible
any chapter of the Bible
used regardless of experience

The 'How-to' for a Bible Book Outline
PRAY
Ask God to help you select a Book to study (unless you have already chosen one). Pray that your eyes may be opened to the wonderful truths within God's Holy Word. That you will 'see' all He wants to teach you through this study.
READ
Try to read the Book you have selected 3-7 times. If you can read through it at least once, in one sitting, so much the better. The shorter Books won't take very long. In a way, they are much easier to get an overall 'hold' of the information within. If you can read a version that is set out with no notes, headings or paragraph. Then you will be able to read it like any other book and without distraction. This has the advantage for you of 'discovering' the answers for each of the questions of this Study without prompts.
LOOK FOR ANSWERS TO THE FOLLOWING QUESTIONS

Who wrote the Book? Who was the book written to?
Where was it written?
When was it written?
What was written – What does it teach?
Why was it written?
If you struggle to find the information within the text itself you may want to consult a Bible which has introductory notes at the beginning of each book. However, try to answer as many of the questions as you can before looking. Mining for treasures involves digging but the 'gems' found by you are yours to keep. Therefore they are more 'valuable' to you! Below you will find a written example (click on the image to enlarge):-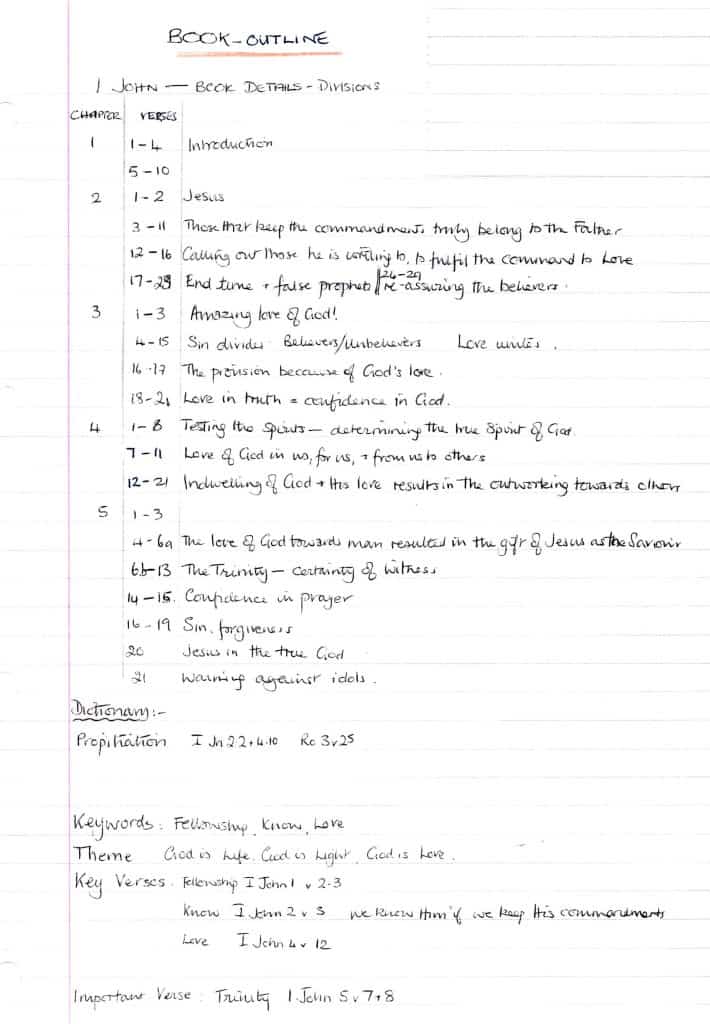 HOW CAN I APPLY WHAT I HAVE LEARNT?
Ask yourself the following questions:-
…….What does this Book teach me about me about God?
…….Can I apply the teachings within this Book to my life? What could/should I be avoiding? What could/should I be doing?
PRAY
Thank your Heavenly Father for helping you to complete this Bible Book Outline. Thank Him too for all He has taught you as you have read and studied the Bible. Ask for strength and grace to implement what you have learnt. Give God the glory and praise.
Take your Bible Study to the next level – try these ideas:-
Look up the location of the place where this book was written or the place(s) named in a Bible Atlas
Check out the History of those locations
Find out more about the person who wrote the book
Look for Bible references to any other characters
TRY THESE IDEAS TO HELP YOU BUILD OTHER STUDIES:-
You can find blank worksheets for this Bible Study method in the Honey Resource Library. Request your FREE Password via the button shown below