Reading Your Bible – Why should you want to?
Reading your Bible needs no definition but it does need encouragement!
Nowhere in the Bible does it prescribe how much time we should spend reading the Word of God. However there are many references to us feeding on it. So if we follow that analogy through we can surmise that God intends us to read, like we need to eat to give us growth, energy and sustenance.
Over the years I have had, and have heard, many ideas of how this should be implemented. But I have to say that just as lives these days are so varied, so are our food requirements, and our Bible times. Individually we pass through seasons of Life that require greater or less sustenance and therefore it is impossible to make a hard and fast rule.
However, everybody needs nourishment. And for the Christian, that means reading the Word of God each day. So much should we read, you ask? To which the reply is not only "How much time do you have?" But also "How much do you want to know about God?" And "How much do you need guidance for your life?"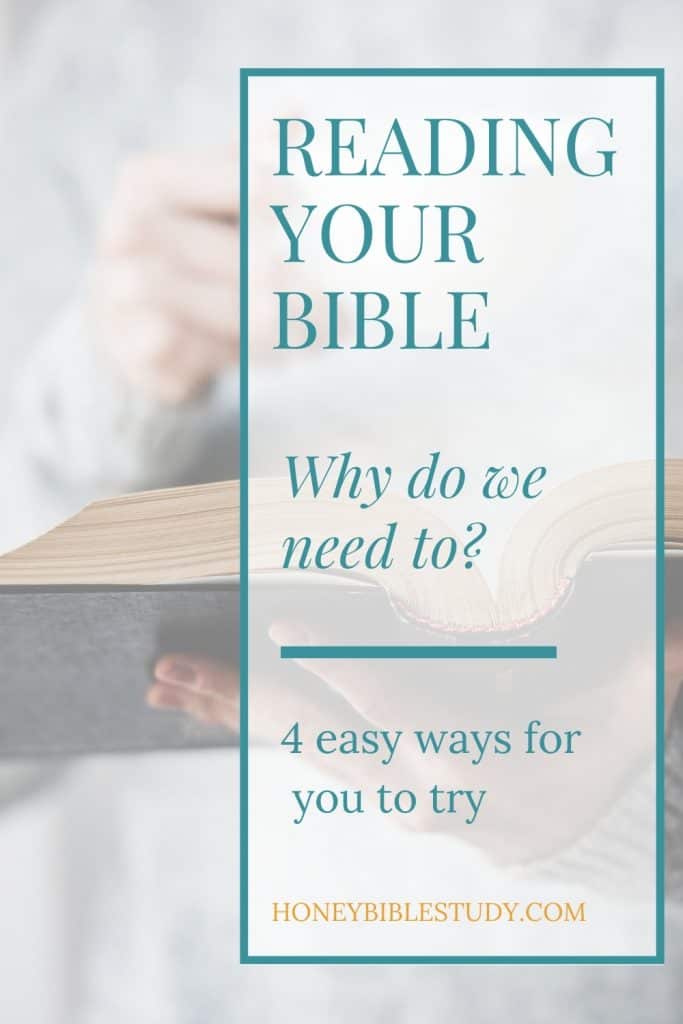 Reading your Bible and…..
Reading your Bible should be part of your Daily time with God whether you call it 'Daily Devotions', 'Quiet Time', or even 'Prayer Time'. Whilst some have had the privilege of hearing an audible voice of God, the Bible is one of the more usual ways He communicates with us. By His Holy Spirit working in us whilst we read, He brings important passages and verses to our attention. This can happen regardless of how many times we may previously have read the passage. And that is exciting!
Sometimes reading the Bible teaches us more about the wonderful Father we have in Heaven, our Creator God. At other times we read and learn about the amazing gift of His Son, and the price He paid for our Salvation. And this gives us more cause and delight in our worship of God
And there are times too when you have a specific need, and God will use His Word to bring you comfort and peace.

Finding The Time to Read Your Bible
Dick Eastman wrote in his book "The Hour that changes the World" in which he suggests an hour spent with God can be divided up into 5-minute increments for Prayer, Praise, Bible reading, Intercession etc. If you could spare a whole hour at the beginning of the day to do just that how wonderful a start to that day would that be. If a whole hour isn't possible then how about 1 minute for each of the twelve steps he suggests? Or try spending five or ten minutes at various times throughout the day?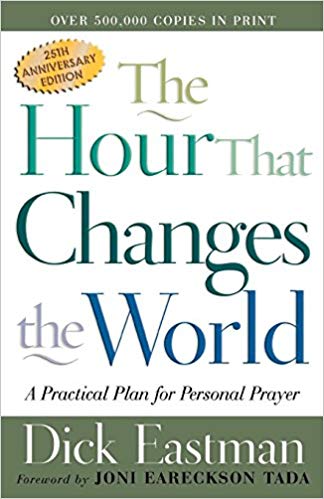 (The following is an affiliate link which means when you make a purchase I earn a small commission at no extra cost to you)
If you want to read more about this book click on the link https://amzn.to/2CDXuZM
Reading Your Bible is not the same as Bible study
Reading your Bible gives an overall picture or understanding of what is written there. It helps you come to know more about God, about mankind and about the Christian faith but only at a surface level. To know more, to plumb the hidden depths of meaning, to search out precious nuggets of golden truth; you are going to need to do (that is an actionable word there!) Bible Study. And that study can be done by you, on your own or within a group setting.
Now hear me out! Don't panic! And don't get overwhelmed! The Bible is a BIG book and there is a HUGE amount of information within its pages (and that's without the extra reading Publishers give you in the notes!) The Bible is meant as food for life and if you live to be one hundred and five years old, that's a loooong time!
TO HELP YOU CHOOSE A BIBLE STUDY YOU CAN READ MORE HERE
How to Read Your Bible Daily – or not?
There are several approaches to reading your Bible and they are:-
Use a Bible reading Plan – of which there are plenty to be found online. This is a prescribed reading list over a set period of time. It could be to read the Bible in 90 days or a year. Or it could be read it 5 days a week, Chronologically or some other 'programme'
Use a Devotional which suggests a reading for the Day. Sometimes this will be a series of readings for a month on a particular Topic
Work your way through the Bible from cover to cover with no time restraint or set a goal eg to read the whole Bible in a year.
Read Books of the Bible at random or when prompted. For this, I suggest you keep some sort of record to make sure that you do actually read from all scripture and not just your favourite books (…….ahem…….I speak from experience!) You can find some handy Checklists in the Honey Resource Library
REMEMBER ~ some devotionals only suggest a verse, not a portion of Scripture, for the day. Just as food is necessary for our bodies well-being, reading the Bible is good for the health of our souls. Try to expand the reading to include the whole paragraph or chapter. This can be important too if you want to make sure that the reading hasn't been taken out of context
Conclusion: Reading Your Bible…….
It is good for you and the health of your faith!
It's the easiest way to learn about the God you love and His World
There are different ways to approach reading your Bible. They are not all the same.
You can use different ways to read your Bible to suit the Season of life you are in AND to keep your desire to read God's Word alive!
FURTHER INFORMATION CAN BE FOUND HERE:-